Updated 15th May 2020
How do I know if my wheelchair is Crash Tested and safe to transport in a vehicle?
Wheelchairs are used by thousands of people around the UK on a daily basis for a variety of mobility needs. When purchasing a wheelchair, an important factor to consider is if it is compatible to be used inside a vehicle such as a mini bus, taxi or car. Many wheelchair users often find travelling a challenge, or worry about how they will get to places such as hospital appointments if they struggle manoeuvring in and out of their chair. Many wheelchair users may find it more comfortable when remained seated in their own wheelchair while travelling, so it is important to ensure it is safe to be used within a vehicle. We find that many customers do not understand what the term "Crash Tested"actually means, so at First Choice Mobility  Ltd we have created this quick guide to give you a better understanding.
What does Crash Tested Mean?
If a manufacturer refers to a wheelchair as "Crash Tested"  it means that the wheelchair is safe to be pushed inside a suitable vehicle and secured during travel, the crash tested wheelchair will have anchor points, allowing the wheelchair to be secured into place with the occupant seated within the wheelchair. The anchor points on the wheelchair are used by attaching straps to the anchor points on the wheelchair. These straps are then tightened to ensure the wheelchair will not move in the event of an accident and therefore protecting the wheelchair user from harm when travelling.
How do I know if my wheelchair is Crash Tested?
Wheelchairs that have been manufactured and suitably tested for secure use within a suitable vehicle will be marked clearly on the wheelchair with anchor symbols (see picture below) featured on the frame of the wheelchair. The icon is most commonly displayed on the front frame of the chair, however details are also clearly stated within the user manual, and we include details on the individual product pages on our Crash Tested section on our website.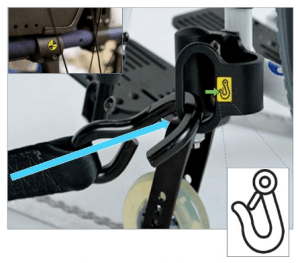 Are all Wheelchairs Crash Tested?
Not all wheelchairs are crash tested, There are a many Crash Tested wheelchairs available from First Choice Mobility Ltd, including Self Propel wheelchairs, which have larger rear wheels that allow the user to propel themselves to travel, or our Transit Wheelchairs, whereby the wheelchair user is pushed by a carer, friend or family member with the rear handles. You must check for compatibility before transport and do not just presume your wheelchair model is compatible.
Is it safe to use my wheelchair in a vehicle?
If your wheelchair has been declared as safe by the manufacturer and the transport you are using is fitted with the capability of carrying a passenger seated within a wheelchair, then it should be safe. This is subject to the wheelchair being fitted correctly to all of the anchor points and that the user is wearing a suitable 3 point seatbelt. Please note a Wheelchair lap belt is not a suitable seatbelt for use in a vehicle.
Taxi companies and ambulance staff should all be suitably trained on securing a wheelchair into their vehicle as they are responsible for the safety of their passengers, and will ensure you are secure before departing. If you are unsure then please don't be afraid to ask the driver or enquire when booking a taxi if they are trained to carry and secure wheelchair passengers.
At First Choice Mobility we stock a wide range of Lightweight Wheelchairs, Self Propel Wheelchairs, and Transit Wheelchairs, many of which have been crash tested and feature the anchor logo. If you are unsure whether the wheelchair you own is crash tested please do not hesitate to contact the store which you purchased it from.
To view all of our wheelchairs online please visit here.
NOTE: Sept 2019
In the wheelchair world, the crash tests for the chairs are covered in ISO 7176-19, the vehicle tie-down systems in the ISO 10542 series, and the seating systems in ISO 16840-4.  In the latter, this covers only those postural support devices that are integral to the seat.  What it also tests is the means of attaching the seating system to a wheelchair, but since the standard uses a surrogate wheelchair, the tests give no indication of how any specific wheelchair might perform in use with that seating system, in a crash test.
Strength testing of postural support devices is covered in ISO 16840-3, but these tests relate to items designed for assisting the occupant's positioning in the wheelchair in normal wheelchair use and are not designed for testing devices designed as vehicular restraints.
There is no ISO crash test for after-market head restraints (nor headrests, nor head supports): however, the suitability of a head support used in a wheelchair for transportation needs to be covered by a risk assessment as to whether the occupant is better protected against the forces experienced in accelerating, braking, or cornering, by head protection, than without.